Up until a year or so ago I had never heard of the city of Riga, Latvia. To be honest, if asked to place a pin on the country of Latvia on an unmarked world map I'd give myself odds of about 100:1 of getting that one right also. Now, having been immersed in all things 'live dealer' for the past 12 months, I hear and read of this place daily.
Why?
Well as it happens, Riga is fast becoming the epicenter of the online gambling industry's push to bring live dealer games to European players.
Evolution who?
This all started a couple of years ago, when a then unknown niche casino platform developer named Evolution Gaming built a dealer studio there, with a view to streaming games with European dealers to the online gambling world. Until then, video streamed casino games were largely confined to Asian based dealer studios served to Asian players – and there the format continues to enjoy considerable and growing market support.
Owing largely to the quality of their platform, Evolution managed to sign up a couple of big name operators back in 2008. Not wanting to miss out on having the slickest new product on the market, other operators were keen to jump on board also, and soon the trickle of licensee sign-ups turned into a torrent.  A who's who of the online online gambling world now serves Evolution's games to their respective customers. Blue Square, William Hill, Ladbrokes, Unibet, 888.com, Bwin, GalaCoral, Paddy Power, PartyGaming, Victor Chandler. These are all companies that count their registered player bases in the millions.
It was no surprise to anyone watching these developments, when Evolution announced in early 2009 that they had to double the floor space in their Riga dealer studio to cope with demand for their live games.
Playtech joins the party
Watching all this with interest was online casino software power house Playtech.  They had been already operating a successful Asian based dealer studio streaming blackjack, roulette, baccarat and sicbo to their licensee casinos.  Not wanting to miss out on the European party they decided to launch a new dealer studio with European dealers, and their location choice…Riga, Latvia.
So now, in terms of access to a registered player base, you have arguably the 2 most significant online live dealer studios in the world both located in the picture post card city of Riga.
About Riga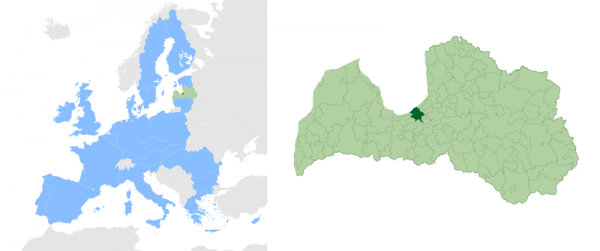 First a quick geography lesson…Riga sits on a Baltic Sea bay on the East coast of Latvia (green).  It's Latvia's capital and  from all reports and pics, a very beautiful city whose center has been declared by UNESCO a World Heritage Site.  About 700,000 Latvians call Riga home.   And least 200 of those 700,000 deal blackjack, roulette and baccarat in front of web cameras that are streamed to players around the world 24/7.  And if those 200 are at all representative of the rest of the population, I (young red-blooded male) am moving to Riga in the not too distant future.
A typical Riga dealer from a game recorded at Unibet…