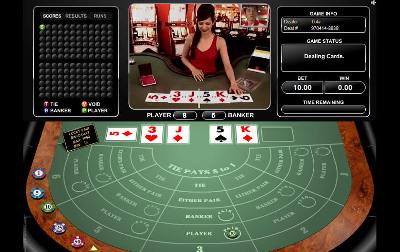 What is it?
Pairs, or Luck Pairs baccarat (as they refer to it at Entertasia powered casinos) offers an additional pairs side bet.  If you take the side bet, you are betting on a pair being dealt to either the Banker of Player hand on the first 2 cards dealt.
At most casinos, certainly all listed below, the payout on the pairs bet is 11:1.
Some casinos (Bodog 88, Unibet, 888.com) also offer a '2 Way' and '3 Way' bet which is a bet on bother pairs and both pairs plus a tie respectively.
The Pairs side bets are completely optional. You can choose to bet the simple old 'Player', 'Banker' or 'Tie' bets only.  Conversely, you may choose to bet the pairs side bet only.
The screenshot above is taken from the Microgaming powered live casino, Platinum Play.
Where can it be played live?
Platinum Play | 888.com | bet365 | Unibet | 32 Red | Bodog 88