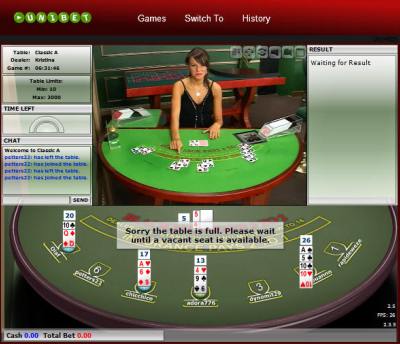 What is it?
In essence this is pretty much the same game of blackjack that you play at a real casino…only here you are playing it on your PC.
You may join any of the 7 available seats at the table and play your hand in turn as you would at a bricks and mortar casino.
To allow for the fact that each player is playing remotely, time limits are imposed both on time to place bets (typically 30 – 45 seconds) and the time to make your bet decision (hit stand etc – typically 10 – 20 seconds).
Look and feel will differ slightly from one casino to the next, however rules and deck size seems to be pretty consistent, with most casinos adopting the following:
- game dealt from an 8 deck shoe, shuffled mid shoe;
- dealer will stand on ALL 17s (hard and soft);
- blackjack pays 3:2
- player can double after split
- player can re-split Aces
- player can not hit split Aces
Where can it be played live?
This is the game offered at all be a small handful of live casinos.  All the below casinos offer live multi-player blackjack.
888.com | William Hill | bet365 | Unibet | 32 Red | Bodog 88