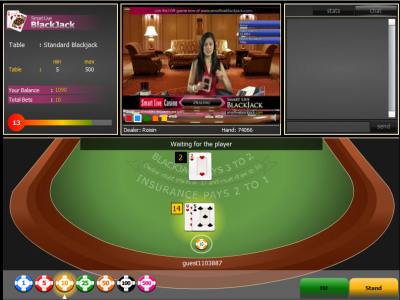 What is it?
Notice in the screen shot (taken at Smart Live Casino) that the dealer is only dealing a single hand as if there is only one player playing the game?
In actual fact, many players are playing this game.  Smart Live broadcast their games on pay and free-to-air television across the UK so at peak times a dealer/presenter may be dealing blackjack to hundreds of players.  To this end, the term single player might be a bit misleading and maybe 'single deal' is more appropriate.
Rather than each player being dealt in turn (which would make for a long game with hundreds of players!) any cards required by players wanting to hit, double down etc are dealt to the middle of the table and allocated to each players hand as required so that normal blackjack rules can be applied to each player.
If you stand on the first 2 cards dealt, and you see additional cards still being dealt, these will be for other players choosing to hit, double down, split etc.  The additional cards will not be added to your hand.  Conversely, where you choose to draw additional cards, the additional cards dealt to the player hand will be allocated to you as required.
It's a bit confusing at first, and probably not a format for the blackjack purists.  But it does make for a faster game than live multi-player blackjack and importantly, despite an altered deal convention, normal blackjack rules will apply to the hand that you play.
Where can it be played live?
This format is used at the 'for television' games offered at Smart Live Casino and Super Casino.  BetPhoenix, while not a television game, also use the single player/deal format.
Blackjack at BetPhoenix: