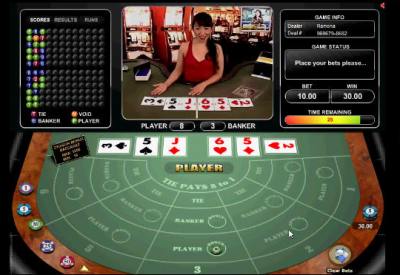 What is it?
Here you can take your standard Banker, Player and Tie bets, but you can also take optional side bets on the deal outcome.
Player, Banker and Tie bets pay as per standard baccarat rules.  There is no requirement to place the standard bets in order to qualify to take the dragon bonus side bets.
With regard to the side bets, a winning bet on a  Non-natural hand win by 9 Points pays 30:1.
Other dragon bonus bets offered include:
Non-natural hand win by 8 Points – 10:1
Non-natural hand win by 7 Points – 6:1
Non-natural hand win by 6 Points – 4:1
Non-natural hand win by 5 Points – 2:1
Non-natural hand win by 4 Points – 1:1
Where can it be played?
Live baccarat dragon bonus is a Microgaming (software developer) game, and therefore only available at their licensee casinos like 32 Red