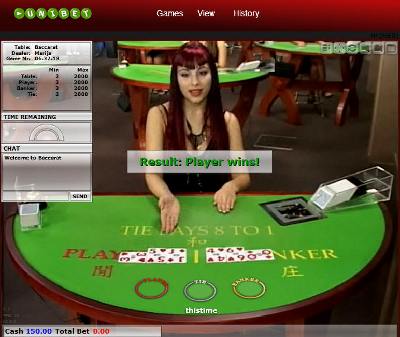 What is it?
Plain old standard baccarat, available live online at a bunch of great casinos.  The interface look and feel will differ substantially from one casino to the next, but the game – with simple 'Banker', 'Player' and 'Tie' bets is the same.
Payouts at all the below casinos are the standard:
Banker: 1 to 1 less 5% house commission (Vigorish);
Player: 1 to 1
Tie: 8 to 1
This is arguably the simplest of all casinos games.  Choose your bet before the deal begins (there are only 3!) and let the dealer do the rest.
Just a tip for those not already aware – house edge is lowest on the Banker bet, despite the 5% Vigorish it attracts.  At just over 1%, depending on number of decks used, it's actually one of the best returning (ie lowest house edge) bets you can make at a casino.  The Player bet is just behind it, and Tie bets will lose you plenty in the long run, with a mathematical house edge around 14%!
Where can it be played live?
Take your pick. Every live casino offering baccarat (which is pretty much every live casino) offers a standard form of the game.  Some great casinos you might want to try include:
888.com | William Hill | bet365 | Unibet | 32 Red