OK so if you have stumbled across this page then chances are you have some interest in the game of roulette.  No doubt you've played it at a casino somewhere, and maybe even online… but have you played it live online?   I would hazard a guess possibly not…and I guess this because it is a reasonable new roulette platform.   So what it it?
It's played online.  But this is where its similarity to traditional online roulette games whose outcomes are determined by random number generators and presented by computer graphic simulations ends.  In live roulette the game you are playing is conducted by an actual croupier using a real roulette wheel and ball.  A real-time video feed of the game is fed to your computer so that you can see the the ball drop, spin and outcome, as if you were sitting at the table.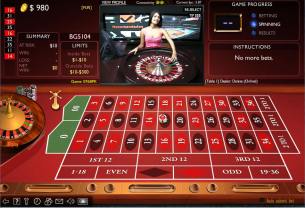 Of course a you are also able to place real money bets on the game you are watching over the live video.  The image at right is a typical example if the way the live games are presented by various casinos.  A video feed is inserted in the bet screen providing a continual view of the game itself.  The rest of the bet screen contains various information on the game (history of outcomes, table limits, access to help/rules pages etc) as well as a virtual table allowing for placement of your bets.
Of course different casinos/software developers have slightly different functionality and look and feel to their roulette games and also offer different roulette variations (French, European, American etc), but broadly speaking the way the game is delivered is the same.
We have set out more details of various live roulette options available at our live roulette.  The variations currently available in live format are also examined at out live European roulette, live French roulette, live American roulette and live Asian roulette pages respectively (also accessible from top menu).
Live roulette at William Hill